BUYING COMMERCIAL PROPERTY IN BERLIN – WHAT YOU SHOULD BEAR IN MIND
Commercial property in Berlin is just as much in demand as residential property. Offices, medical practices, shops, warehouses – the spectrum in Berlin is broad. But this very diversity also means that there are a number of things to consider when buying a commercial property in Berlin. We at ADEN Immobilien can help you find the right property.
RISKS WHEN BUYING A COMMERCIAL PROPERTY IN BERLIN
Like most major investments, buying a commercial property in Berlin involves certain risks. This is due to the different markets for residential and commercial property. For example, the price development of commercial property is not influenced by house prices. Intensive study of the respective commercial property market is therefore essential.
Furthermore, one should also be aware that an investment in a commercial property can be a test of patience. Returns do not always flow from the first moment. But if you are prepared to persevere, you have the chance of a lucrative investment. To put it briefly: buying a commercial property in Berlin is a long-term investment.
We at ADEN Immobilien are very familiar with the Berlin commercial property market. We advise you comprehensively on risks and opportunities and where an investment is worthwhile.
WHICH COMMERCIAL PROPERTY IN BERLIN SUITS ME?
A commercial property is one that is predominantly used for commercial purposes. According to the Valuation Act (tax law), the usable floor space must be more than 80 percent of the living space. There are different types of property:
Handelsimmobilien wie Ladengeschäfte, Supermärkte, Einkaufszentren
Office real estate, including not only office space but also doctors' surgeries
Logistics properties such as warehouses
Production real estate (factories)
Leisure properties, such as amusement parks, holiday homes, allotment gardens
Special or specialised real estate (e.g. hotels, railway stations, airports or power stations)
In Berlin, many retail and office properties can be found in the inner city area, while logistics properties are predominant in the outer districts and in Berlin's surrounding countryside.
Which property suits you or your portfolio depends on various factors. In addition, different types of commercial property generate different returns. For example, anyone interested in a commercial space or row of shops in Berlin should carry out a customer frequency analysis of the potential investment location before buying. For example, if tenants change frequently because there is a lack of (walk-in) customers, this naturally has a negative impact on the return.
In contrast, a logistics property in Berlin can be a good alternative. Even though the returns here can be somewhat lower, they usually come regularly and quickly. The demand for warehouse space is usually high in Berlin and therefore the risk is low. This asset class is therefore considered a relatively safe investment.
We at ADEN Immobilien will find the right commercial property in Berlin for you.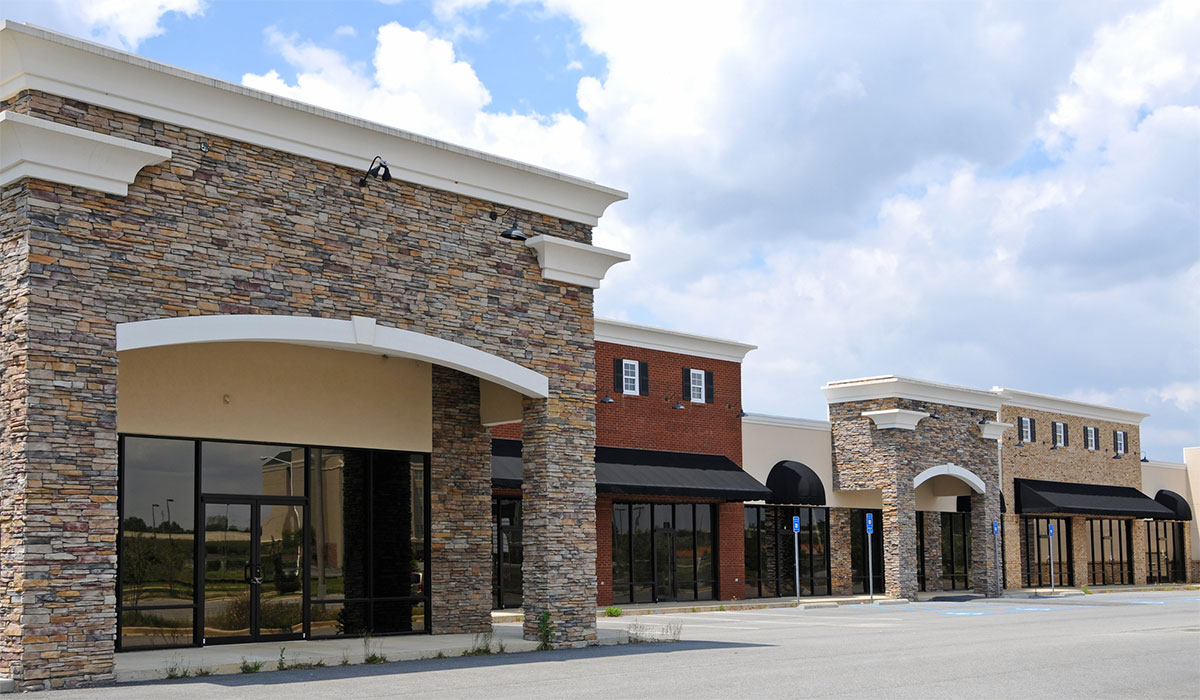 Buy a suitable commercial property! But which one is the right one for my investment?
WHAT SHOULD I LOOK OUT FOR WHEN BUYING A COMMERCIAL PROPERTY IN BERLIN?
The investment in a commercial property in Berlin should be well prepared. All necessary documents should be checked by a lawyer. In addition, you should seek advice from a tax advisor. You should only inspect your potential investment property with an experienced real estate professional.
Furthermore, you should check or have checked all constructional and financial information of the property. This will show you whether you may be threatened with costly maintenance measures or legal disputes.
As with residential property, location is important for commercial property in Berlin. While shops – as already mentioned – should be easily accessible for (walk-in) customers, good infrastructural connections are important for logistics properties. Are parking spaces available for employees and customers? Especially with office properties, size, floor plan and equipment are important criteria. Since the corona pandemic and home office, it is difficult to predict what needs this asset class will have to meet for future tenants: Open-plan offices, individual offices, co-working spaces?
At ADEN Immobilien, we thoroughly check your potential investment property so that you don't experience any unpleasant surprises.
Commercial property in Berlin – advantages and disadvantages
Commercial property in Berlin can be a good investment. As a landlord, you have a little more leeway here than with residential property. You are not bound by the local comparative rent or other guidelines when it comes to rent. You can conclude long-term, fixed-term tenancy agreements. During the term of the contract, ordinary termination is excluded for both parties. This arrangement protects you as a landlord from periods of vacancy or a high tenant turnover.
However, a commercial property also involves certain risks. In the case of smaller shops or restaurants, there is often the risk that business will not run as planned. This can lead to loss of rent or the insolvency of the tenant and thus to vacancies again. It can be an advantage if your commercial property is as versatile as possible. This allows you to reach a larger group of tenants and find a new tenant more quickly.
Conclusion:
Investing in a commercial property requires thorough preparation. Whether the investment will be a success depends on various factors. Legal and tax questions must be answered. In addition, the local real estate market and the property in question must be studied in detail. This is hardly possible without a lawyer, tax advisor and real estate expert.
However, if you have done your homework, approach the matter with a suitable investment strategy and always keep in mind that a commercial property in Berlin is a long-term investment, you have a good chance of making a profitable investment.
Are you looking for a commercial property in Berlin? Whether as an investment or for your company – we at ADEN Immobilien are very familiar with the Berlin commercial property market thanks to our many years of experience as real estate agents. We will find the right property for you. Contact us, we will be happy to advise you!